Some owners were out and about on the Avon in Stratford in June 2007 and Oasis Too was caught in the first floods on the Avon. The river was so high they wouldn't let us move her, so there she stayed. Ownerships went down to check on her regularly and make sure she was securely tied. In spite of this, in the July floods she slipped her moorings and set off down the river. She eventually came to rest hanging over Pershore Weir and we feared the worst.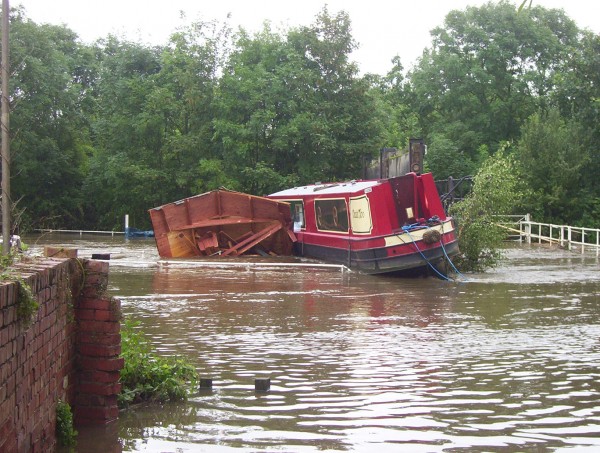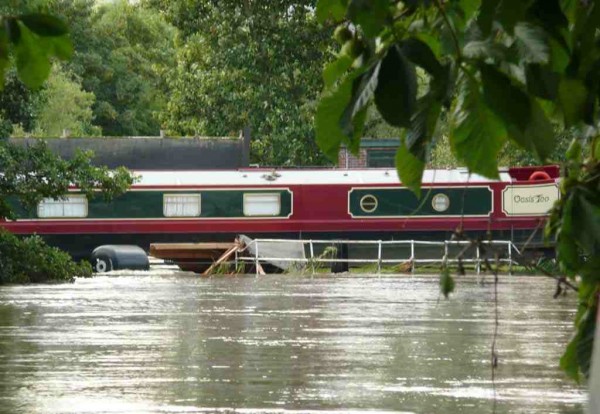 As the flooding receded, it became clear from this ariel photgraph, just how precarious her position really was.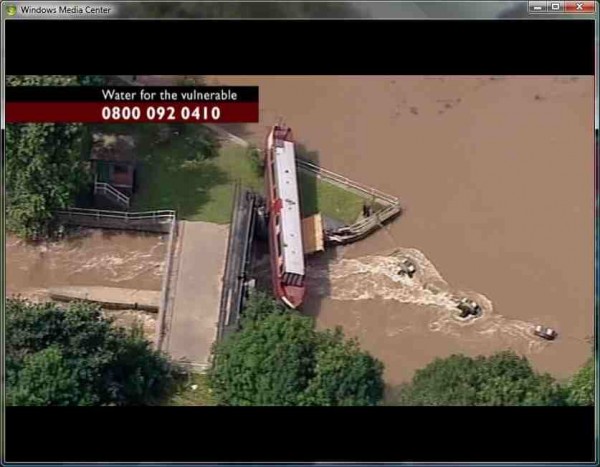 Ownerships were however on hand, both with updates for us as Owners, and on the case about getting her back into the water. They tried a crane, but because of her position they couldn't get one near, so eventually they wrapped up the stern and pushed her 'gently' backwards (as gently as you you can with 35 tons of steel) into the water.
Miraculously a leaked toilet and some broken glasses were the only casualties of her adventures. Ownerships got her completely checked over, cleaned up and back on the cut in three weeks!
Some sceptics wonder why we use a management company. We don't. It is at times like this that their knowledge, expertise and sheer dogged determination come into play. They handled all the insurance issues and all the hassles.
This is Oasis Too's second big flood adventure. When she was being built on the River Nene it flooded and she rose up right through the roof of the boatyard. We think she is pretty spectacular and pretty indestructible.
If you want to see Oasis Too on National TV there is a link here to You Tube…